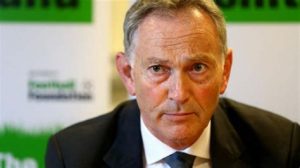 Scudamore & the Premier League
I've just seen on Al-beebra that outgoing PL Executive Chairman Richard Scudamore could be in line for an eye-watering 5mill. farewell bonus, paid for by the 20 PL clubs.
Mr '39th Game' Scuntamore is reportedly on 2.5mill. a year, and no doubt will have a fat pension lined up to boot. Nevertheless his pal Bruce Fuck (sorry Buck) of Chelsea FC is asking clubs to stump up 250k apiece to bankroll the cunt's mink-lined retirement plan.
This comes at a time when many lower league clubs struggle to survive financially. At a time when PL clubs regularly maintain that budgets are planned well in advance, and that there's little surplus cash around from telly rights deals, the most recent bringing in the paltry sum of just 5.14bill. Supporters seem unimpressed. Fans are continually pissed about by fixture changes to suit the said deal, and are said to be 'strongly opposed' that clubs might contribute to line an already wealthy cunt's pockets.
During my working life my 'reward' from my employers was my salary. That was it as far as they were concerned. Upon retirement I got a card and some gifts paid for by my colleagues. Scuntamore has been very well paid over the years,so why a fat farewell payoff as well? To my way of thinking, this is a classic case of a bunch of rich cunts looking after one of their own.
Scuntamore has played a large part in turning the beautiful game into the stinking loadsamoney pig trough we know and love today. Of course, he might play the white man and donate the cash to aid development of grassroots football, or perhaps to MacMillan Cancer Support, in which case I'll be the first to shout 'well done' and applaud. I'll wait until I see it. If he trousers it, I'll organise another whipround myself via IsAC. There's just one problem. I've got a large box but no dog. Will someone be able to provide a very large and rancid dog turd?
Nominated by Ron Knee
(It took me three attempts to create this post. Thanks shit WiFi!)