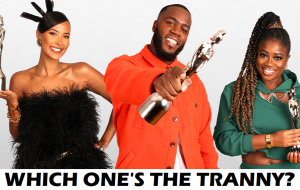 The Brit Awards
Piers Morgan Gets Upset with The Brits
What a bunch of back slapping virtue signalling cunts this lot are
According to the media Sam ( him his her they them cunt ) Smith has complained non binary people are not represented at the erm awards.
So one knee jerk reaction later they are scrapping best male/female "whatever" award and combining it so instead of best male singer and best female singer it will just be best singer.
Suppose it cuts down how long the show is.
Nominated by: Onceacuntalwaysacunt
With the B side (see what I did there? – NA) remixed by MiddleEngland:
A musical woke fest of a cunting for the Brits – you'll know why as this is become a trend…
It seems the Brits have scrapped the nomination categories for "male" and "female" artists. You can guess why – but if not, it's to create more inclusion.
Seemingly brought on by pre cunted singer Sam Smith who identifies as non binary and refused to take part.
I for one as a cis-male feel excluded and I won't give this wokefest another thought (not that I ever watched, as such but I do like to know who has won).
It's a sad new world we now live in…