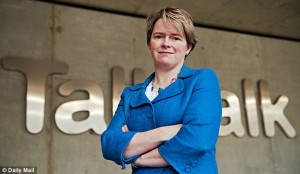 Dido Harding, the incompetent CEO of the worst ISP in the country TalkTalk, is an absolute cunt!
Last week TalkTalk was hacked for the third time this year. THIRD TIME FFS! What the fuck was the woman doing? Clearly not her job of running the fucking company that's for sure.
So how the fuck did Baroness Harding of Whinscunt get this fucking job? Well, she started off at Woolworths (who went bust) then moved to Tesco (where she 'resigned' aka was sacked) then after a spell at Sainsbury (much declining profits) ended up as CEO of TalkTalk. Now you might think she sucked somebody cock to get the job? You may very well think that, but I couldn't possibly comment.
Ditto how did she qualify to become Conservative peer? Well, that's a lot easier to answer – in October 1995, she married John Penrose, MP for Weston-super-Mare, Parliamentary Under Secretary of State, Culture, Olympics, Media and Sport since 14 May 2010. 2010 you might recall is about the time she landed the TalkTalk job. I'm sure it's a total coincidence, along with the peerage.
Highlight of last week? Watching the bitch squirm on TV. Highlight of the TV moments? Watching her admit she didn't know whether the data that was hacked was encrypted or not. Didn't know FFS! It's her job to know!!! It's bloody basic – especially after two previous hacks within the past year.
If this cunt keeps her job after this, there's no hope for any of us any more. Worryingly, In February 2013 she was assessed as one of the 100 most powerful women in the UK. The honour was repeated the following year, when she was named in the 10 most influential women in the BBC Woman's Hour power list 2014.
Even more worrying is that the incompetent cunt is a non-executive director on The Court of The Bank of England. Christ help us!!!
What a total cunt.
Nominated by: Dioclese