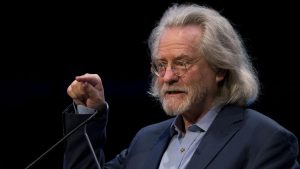 Cunt of the week award should go to this smelly old wanker A.C.G. Just watch this.
I hate those pompous fuckers who use their initials rather than their names so they can appear *academic* and *important*.
I have heard the motherfucker on the BBC and he is the epitome of the Ladybird Book Of Philosophy. Fuck this old wanket
Nominated by W.C. Boggs
Wankpuffinery such as this has pushed me to the limits.
I have NEVER been a violent person, but have come to the conclusion that the ballot box is now a joke. After all, Verminhofstadt, Grayling et al. treat it with contempt.
It will be interesting to see how things pan out. I fear that Jo Cox may NOT be the last offed MP…
Also, German MEP Markus Ferber is a cunt. He has threatened that, if Italy DARES to elect a populist government, the "Troika" may invade Rome – ie IMF, European Commission and European Central Bank.
One of the Italians rightly replied that "It's never a good sign when the Germans talk about invading"
It is time that the EU is destroyed for good.
Hopefully not by violent force but I am struggling to see it any other way.
Nominated by HBelindaHubbard