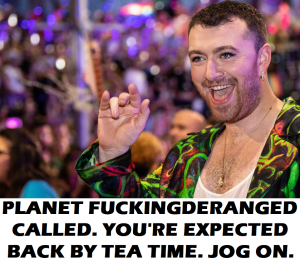 Yeah ok guys, it's yours truly Ron here. Again. Some might argue that I spend too much of my time on here, but I crave your indulgence. It's a case of so many cunts, so little time.
Speaking of cunts…
I was just sent this link by the wife, who's still laughing with disdain at the latest antics of megacunt Sam Smith;
YouTube Link. (Brian Cox is also a cunt though, eh Ron? – NA)
Now some might argue that he's just trolling for attention, and they might be right. But personally, I find something extremely creepy about this person's posturing, bordering on sinister. It's hard to quantify, he just radiates unsavoury like a fire radiates heat.
There's being outrageous for effect, and there's being in need of help. In my opinion, in Smith's case it's definitely the latter.
Nominated by : Ron Knee