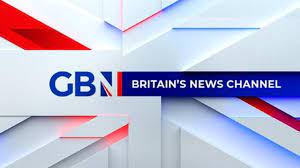 First Sir Laurence Fox and Dan Wooton get the boot, Now Calvin Robinson has got the bullet, And all because Ava Evans has been offended for the hundredth time.
Well, for a start, all three men are in a no win situation. Ava Evans is the sort of woman who gets offended if a bloke opens a door for her or pulls out a chair for her to sit on. Her blatant misandry and total hatred for (white straight) men is well known. But, of course, the media – mainstream and social – have conveniently overlooked or ignored all the nasty shit that she has said. From her wanting all men to be 'terrified; to sneering at male suicide statistics. And will she apologise like Fox and Wooton have had to do? Will she fuck. She can say what she wants, when she wants.
Yet Fox, Wooton and Robinson are public enemies numbers 1, 2 and 3. GB News should be backing then up, not carpeting them. GB News was supposed to be the last bastion of British free speech a beacon in a sickeningly woke world. My arse, they are as scared of offending the woke loonies as much as any other media outlet.
Nominated by Norman.
And in a similar vein, there's this from Cuntybollocks 
BBC on their high horse
The absolute shower of cunt that is the BBC, have been up in arms over the recent Lawrence Fox fallout. GB News have shamefully shit their pants and have thrown others under the bus in support of twats like 'Hate (and destroy anyone with a different opinion or who tells a risque joke) not Hope and other cunts, such as the BBC.
Let's have it right.
The BBC employed Savile, DLT, Stuart Hall, Rolf Harris and that recent crocodile tamer cunt, whose crimes are so fucking sick and evil, the media can't really tell you what he did. It's too harrowing so I'm not going to go into that here
No, what fucks me off, apart from GB News shitting themselves (they can fuck right off from now) is that I've seen countless BBC talking heads moralising over GB News content and presenters in recent days.
Look, Fox's comment was pretty rude, but fuck it. He's not been raping dogs until they die or diddling kids for fuck's sake.
What GB News should've done is doubled down and told the Beeb, the Guardian and the bastards at HNH to go fuck themselves, which they probably would if it was possible, unless of course there was a kid or dog in the way.
Fuck off.