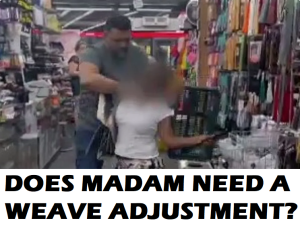 I truly didn't know how to begin this cunting, for this act deserves more than a cunting. This person requires a hanging, followed by being pissed on whilst trying to breath their last breath then tied to the back of a night bus doing a cross London route.
Some of you may have heard this story by now, there may already be a nomination but I need to create my own to add to the gravity of this, so here goes.
Location: Peckham : BBC News Link.
A black woman walks into a 'beauty' shop; though the notion of a beauty shop in this instance is rather upside down. It should really be called an 'ugly' shop, for all the ugly cunts that need to visit it, but that's a different story entirely.
It's the kind of outlet that sells fake hair and other such products to the no doubt highly educated, mannered, law abiding and cultured residents of this area of London.
So back to this woman; she visited the shop to get a refund on some beauty products. Except that this shop does not offer a refund on such items (creams etc) as they may have been used. In any case, she should have known before buying the items that she would not be able to refund them as the store offers an exchange or store credit, which is ample in my opinion.
However not happy with the response she became angry and aggressive. Now knowing she wouldn't get her money back she decided to redress the situation by grabbing a few packs of fake hair and then attempted to leave the store; the store owner would not let her leave and quite rightly so, he got in her way, a scuffle ensued and he had her in a hold. Anyway I don't need to describe the entire episode, the video can seen in the BBCunt article in the link.
Now that is fairly regular stuff you may add, but what really enraged me, what really got to me was the response from the black 'community'. Instead of understanding that a thief was caught, their ire was reserved for the store owner. They protested en mass outside the store with chants of "you touch one, you touch all". The store owner was advised by police to close the store. Racist graffiti was sprayed on the shutters and the protesters held placards with similar messages.
This is the latest effect of not blowing up the fucking Empire Windrush 🙁
Nominated by : Billiam