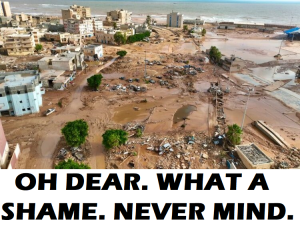 I would like to cunt the Grief mongering press banging on an on about Earthquake in Morocco and now Flood in Libya.
Any loss of innocent life, especially kids is never right, But the shithole country that chooses to let its people live in houses on a fault line or flood plane that eont last the next storm let alone flood or quake should expect no less.
Both these governments have squadded billions in aid -and i strangely bet no senior governments family members count in the tens of thousands of Mohammads that have gone to god.
What the press never show us is a picture of the place before the event as from the little i have seen of these places. the rubble looked the same as before the quuake but with less people, and if looking at Libya, from the drain they shot gadaffi in, that had trouble holding that cunts corpse in it let alone handle the impacts of a storm surge.
Quakes and floods in these burrows are not acts of god they are inevitable eventual failure of bad building off the back off bent greasy governments that give less fucks about safety before these events, than what alot of people do after them.
I think Abdul or more surprised the village lasted as long as it diid, not that it fell down when Allah sneezed.
Nominated by : King Cunt