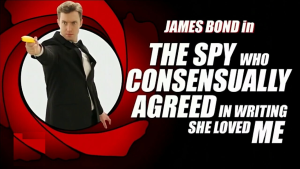 I remember a time when James Bond, the world's greatest superspy, would despatch the Queen's enemies accompanied by a witty one-liner. He raced about in fast cars, drank his martinis shaken not stirred, and shagged gorgeous crumpet with names like Luscious O'Plenty and Clitty Throbbing. Every woman wanted him, every man wanted to be him.
Sadly, all that's changing, thanks to the efforts of former 'Fast Show' star turned author Charlie Higson, who's given 007 a proper 'woke' makeover. Yes, it seems that Jamie B now espouses all those fashionable causes so beloved of the champagne drinking Islington socialist luvvy set.
In his new novel 'On His Majesty's Secret Service', Higson has our hero sent to Viktor Orban's Hungary, to dismantle a (wait for it) vast right-wing conspiracy to attack King Charles. I give you a sense of how things are with an illustration. Having infiltrated a gathering of the blackhats, Bond spots a baddie 'famous for promoting COVID/vaccine/mask-wearing/5G conspiracy theories, spilling over into the usual anti-immigrant, anti-EU, anti-BBC, anti-MSM, anti-cultural Marxist, climate change denial pronouncements'. The former Tory MP's 'anti-trans diatribe' had then resulted in him being kicked out of the party. Well I don't know about you lot, but he sounds like a top man to me.
The novel then has Bond lamenting the fact that Athelstan, the far-right supervillain, doesn't embrace diversity by including 'women, non-white or disabled' people in his plot to attack the new king. I'd like to think that Higson was being ironic, but somehow I doubt it.
What next for Bond then? Will the martini be replaced by a soy latté? Will he abandon the Aston Martin for a bike? Instead of blowing his enemies to kingdom come, will he try to rehabilitate them by pointing to the healing qualities of mindfulness and a vegan diet?
It's gone beyond parody. Higson, you're an absolute cunt, and I hope that 'OHMSS' goes straight into charity shop 10p a pop baskets.
Will the real James Bond please stand up?
Nominated by : Ron Knee