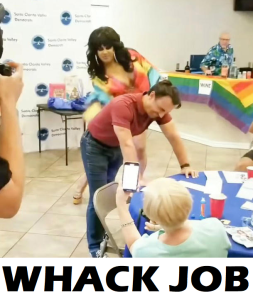 One of the great joys in life is pulling up IsaC every morning and reading the day's nominations. As one illustrious cunter recently opined:
"One of the great things about ISAC (sic) is it never fails in highlighting yet another complete and utter fuckwit worse than the last one when you thought surely this is as low as it can go'."*
And to be sure the eloquence of the cunters and quality of their prose is unmatched on the internet.
To that end, this august body has rules and standards. Too few lines…less than 5 = the bin. Too many lines…more than 50 also = the bin. And as we all know some words are not allowed.
But what happens when a nominee shows a degree of fuckwittery so extreme that mere words alone cannot capture the magnitude of cuntishness?
Meet Konstantine Anthony, Mayor of Burbank California (a Los Angeles suburb), who was publicly spanked by a drag queen…(allegedly in front of children)…ON CAMERA!…and then posted to the world wide web for all to see, at a "Drag Queen Bingo" fundraiser.
Words fail me.
Oh…do I have to tell you he's a Democrat?
*Cunty McCuntface, IsaC, "Maria Hadden", Sept 8, 2023, 4:04PM.
Nominated by : General Cuntster