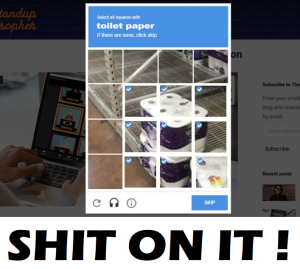 Why do i have to keep dealing with bloody cookies when i click on often visited webpages? I was here yesterday, i rejected cookies. Can't you fucking remember?
Captchas are an even bigger nuisance.
Some websites ask you to put the phrase or words displayed on screen into a box or answer a simple question. Google likes you to tick all the boxes
with fire hydrants or bicycles etc.
Fairly straight forward. (If you can read the damn text. You're a bit fucked if you've never seen a fire hydrant)
However, there is one site i use a lot that takes this ridiculous inconveniance to a whole new level.
It asks me to click on the centre of the correct picture or click on the racoon.
Sometimes it asks me to draw a box around an object.
The problem is that the instructions for what to do are at the top of the captcha screen, which is always cut off due to the way the captcha is displayed, meanining i constantly have to be scrolling up to find out what the fuck silly thing they want me to do is.
Unfortunately, when i scroll up, the captcha screen scrolls up too, meaning i have to go all the way to the top of the bastard screen to look at the instructions. Sometimes that doesn't work and i have to scroll up and down to get it in just the right place to view said instructions.
Here's a tip you IT fuckwits, why not get the captcha to display properly in the first cunting place so i don't have to scroll like a maniac, or maybe use a more compact captcha.
Check that your insufferable invention works properly before inflicting it on people.
C u n t s
https://www.boredpanda.com/captcha-struggles-fails/?utm_source=duckduckgo&utm_medium=referral&utm_campaign=organic
Nominated by : Polite Cunt