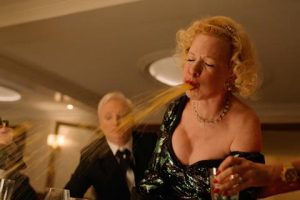 My daughter recently loaned us her dvd of the film 'Knives Out', and last night I opened a bottle of wine and the wife and I sat down to watch it.
All was going along quite swimmingly until we arrived at what seems to be that all too common moment in film; namely, when one of the characters barfs all over the place.
Now admittedly the hurl in 'Knives Out' wasn't too graphic, but it was an illustration of just how much of a film-making trope this has become over the years. Say you're making a crass comedy; a gross out vomit scene seems to be de rigeur. Equally if you're making a tense drama or thriller, say where the protaganist finds a corpse, then it's likely that he or she will then stumble outside and proceed to puke against the nearest wall. Graphically.
I loathe clichés in films, and heaven knows there are enough of them, but this one above all really gets my goat. It's all about intended shock value, but it's been overused to such an extent that it's lost all its capacity for real effect, and is now just another example of lazy film-making in action.
Here's 'Team America' lampooning the on-screen barf brilliantly;
Honestly I wish that producers and directors would just take the hint. Seeing actors fake throwing up in a film just ain't my idea of fun. Enough's enough.
Nominated by Ron Knee.