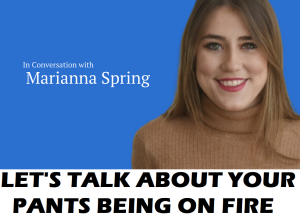 This two-faced cunt works for the BBC as their "Disinformation and Social Media Correspondent" (a glorified fact-checker/moderator by all accounts, and probably tagged with a very nice salary courtesy of the licence payer. But that's another story).
Anyway, it seems Ms Goody Two-Shoes, hasn't been very truthfully about her CV when applying for a job with a US news site called Coda back 2018. She allegedly wrote:-
"June 2018: Reported on International News during the World Cup, specifically the perception of Russia, with BBC correspondent Sarah Rainsford."
But after doing some fact-checking of their own the site found that Spring had never worked with Rainsford. And when confronted with this, a withering Spring apologised and said it was "an awful misjudgement".
As a consequence the site showed their true integrity, turned down her application and told her to fuck off!
Despite this "awful misjudgement", she still works at the BBC "countering disinformation".
No comment from the BBC when confronted by this revelation of course.
Nominated by : Technocunt