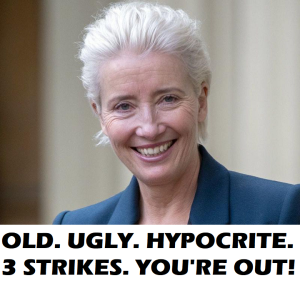 I invite you all to participate in a little competition. Complete the undernoted sentence in no more than two words (three if you're tempted to include the word 'fucking');
Emma Thompson is…. **
Yes, everybody's favourite champers socialist and eco-warrior is back, making herself look like a right arsehole again.
Remember when she fled our 'tiny, cake-filled, misery-laden island' for a pad in Venice because of the Brexit vote, only to fly back pronto to her reclusive bolt-hole in the Highlands when Covid struck? Remember when she flew from LA to London (first class, no doubt) to pontificate at a climate change demo in London?
Yes well, she's now been spotted swanning around on a superyacht in the Med; one of those luxury barges with a carbon footprint bigger than a Saturn rocket.
'Hypocritical luvvy, moi?'.
It's okay though. I think we can all agree that sacrifices on the way to net zero are strictly for the likes of us little people to make, and not for Very Important People like Dame Emma to consider.
She's a national treasure, after all.
** Competition answer:
'Emma Thompson is a (fucking) cunt'.
Nominated by : Ron Knee