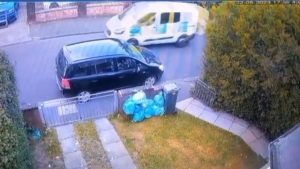 A cunting for the police watchdog for even considering investigation of the 2 police officers who were in the area when 2 Ely scumbags, riding an illegal electric bike at speed into the front of a bus.
Maybe I have this wrong but even if plod were chasing this pair of weasels, isn't that their job, to try and rid us of pieces of hyena shit like this, furthermore the fact that they decided to foxtrot Oscar at speed at managed to hit a huge orange bus is somehow the fault of the police.
Then the residents of Ely decide to riot and wreck the place, now these dumb fuckers have to live there so leave the place damaged in my opinion, fuck them all.
The scrotes brought it on themselves, maybe it would have been better if the parents hadn't bought them the top of the range drug dealers leccy bike of choice, maybe they would still be committing petty crimes to this day if they were on foot.
But in all fairness how can the police be blamed for this and investigating the coppers is total madness and what is it going to mean for future policing…
Nominated by Fuglyucker.