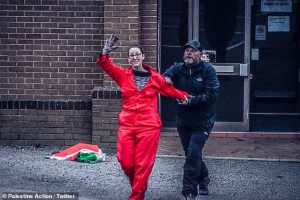 I would like to nominate Ruth Hogg. A convicted criminal who thinks it is OK to go equipped to cause criminal damage and then cause very serious damage to others property.
Why? Palestine. Acting on incorrect information, our brave warrior princess in now on remand for sentencing.
She ,mistakenly,thought that the factory produced electronic items for the Israel Defence Force.So fucking what if it did?
Would she have done the same if the factory produced electronic items used by Hamas to launch rockets into Israel from hospital roofs in Gaza.
Of course not.
Does she demonstrate about the murder of the LGBTQQIA+ population in Gaza? No. The subjugation of women in Gaza? No. The total lack of religious freedom in Gaza? No.
This silly little tart believes what the Guardian tells her and thinks she is a martyr.
OK, princess. When you get out of prison, I will see you at the next Gaza gay pride: not.
I will stake my various pensions she has never been to the middle East but gets all her info from fellow brave warriors on marches demonstrations, left wing websites Owen Jones arsehole and the Guardian.
Why do the left hate Israel? Because it doesn't fit their narrative of the helpless nomadic Jew. Sure the government of Israel is not perfect. Certainly, there are issues but people like her need to understand this: after the holocaust the message is simple: leave the Jews alone or they will fuck you over.
Entebbe?
Munich?
Israel may only be the size of Wales but it will not allow thier citizens to be fucked over.
Nakba? No. Occupation? No.
From the river to the sea: Palestine will never be.
Nominated by Supreme Commander Servalan.