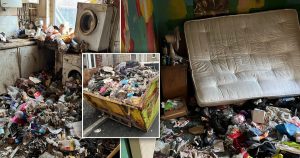 Are cunts. Now, I tend to shuffle the Shark around twice a week. But there's only me, and that's enough.
How the fucking hell can someone live in that. That is absolutely disgusting, not to mention the obvious stench.
I don't envy those cleaners, what a shit job.
I don't actually care about the cunt who built this foul nest, hopefully he died.
Untidy house, then there's this.
Nominated by Jeezum Priest.