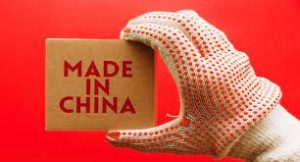 My phone made that spelling mistake in the title and I decided to keep it because it is a lovely conjunction of crap and cheap.
Can someone please tell me why there is a proliferation of Chinese made goods that are crap yet we keep buying them?
I can't even answer my own question. I bought a garden furniture set a couple of weeks ago from, oh the shame, B & Q. Spent a grand on sale. Didn't want to spunk 3k+ on a Rawlinson set. Table top, allegedly tempered glass, was broken on arrival and the 'rattan' on the table sags. Looked nothing like the naffing picture either. I won't bore you with the long sorry story of getting a replacement: B & Q suck but that's another story.
I don't understand the new furniture market. Veneered crap sold at Dovetail prices. All clever pictures, influencers and marketing to seduce you, punters paying a premium. So many sellers without an actual shop where you can see before you buy. Thank you returns laws, flipping hassle though.
Here is a link to a Forbes article that is over 10 years old but gives some insights with regards to the sellers.
p.s Amazon should be renamed Chinazon or something properly apt, yet plenty of people buy their purveyed crap.
Nominated by Cuntologist.