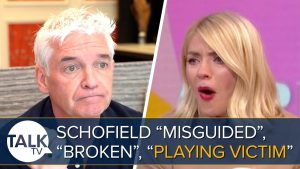 Fucking Phillip Scofield is a chutney ferret of a cunt and trying to play the victim and ride on the back of the Caroline Flack situation just multiplies that a hundred fold.
Now I have never liked this attention seeking sausage jockey, even before he was gay, once a cunt always a cunt in my book, there are no shortage of examples on this arse clowns exploits.
But the latest leave me alone I'm the victim bollocks or I may do myself harm that his PR company is trying to spin to allow them to get this rooter tooter and shooter back into the limelight truly makes me want to chuck.
So Phil I have you on the deadpool and a win would be nice ya cunt.
Nominated by Fuglyucker and seconded by Freddie the Frog below.
I was about to nominate the media attempt to resurrect this sack of shit myself. It's not really about him anymore it's about what they want us to believe.
Anyone who thinks this cunt is going to top himself I can only say……if only!
I fully support the nomination of this excuse for a human being and I have a lot to say about it.