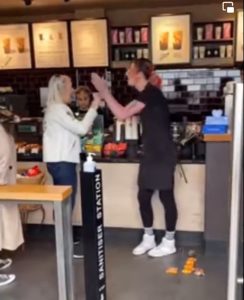 Is a cunt.
There seems to be a lot of trans snowflakery being reported lately; you know, trans people throwing a hissy fit, or even punches, when they reckon they're being mis-gendered, or simply when others don't accept their point of view. Things appear to be getting out of hand.
Take the recent incident which occurred at a Starbucks at Southampton, where an employee got aggressive with a woman customer for committing the unpardonable error of not immediately grasping that he was a 'she'. The worker yells 'you're transphobic', claps its hands repeatedly in her face, calls her a 'Karen', and then tells her to 'get out'. This before getting into an altercation with the person filming the encounter.
Now I've said on here before that as far as I'm concerned, anyone can identify as a lamppost and stand around in the street all day if that's their thing. What they can't expect is that everyone else will buy into their delusion, or even understand the situation immediately. In short, they need to learn to wind their necks in.
To Starbucks' credit, this unstable individual was given the tin tack, and an apology was issued. I'd say that the aggressive twat got off likely. On another day, it might have found itself chewing on a knuckle sandwich. This of course would only have served to reinforce its sense of grievance and victimhood, however gratifying it may have appeared to the rest of us.
Nominated by Ron Knee