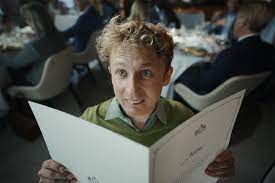 We seem to be in another crisis, folks. It hit the stage in September 2022 and to this day, the cunt is still abusing UK households on a daily basis.
The advert is for 3 communications and is branded as : "life needs a big network."
At first, this advert was just annoying. The stupid Wallace and gromit-esque gormless cunts expressions, his lispy weak chinned pronunciation, and the frequency of the advert. Nothing sinister just really annoying, but it will be OK: persevere and it will fuck off and be replaced by a more annoying advert 3 months later.
Fast forward to May and we have nearly had 3 financial quarters of this bullshit. Over the last 2 weeks I can't escape the Gravlax cunt. I get him 3 times a day, across the TV, iCunt and mobile phone. It's almost like I am being forced to have a homoerotic relationship with Mr Gravlax.
However, watching it under a different lens and I found another issue with it.
It's the lack of ambition and aspirations that his mixed race in laws have… You know the score. Stupid honkey cannot order anything other than burger, chips and beans.
The 2 cunts are so impressed that he orders the Gravlax with such a solid conviction. Fantastic, now I've ordered a salmon dish, I'm good enough to bang your daughter… Cheers.
And of course they are right to question his lazy privileged honkey ways: the daft cunt doesn't have a fucking clue what Gravlax is, and 3 has to step in and save him from his privilege colonising background.
I won't let this get to me anymore… Now where did I put the lemon rind, white peppercorn and freshly picked dill sprigs…
Nominated by Cunt Executive Officer. A refreshingly original cunting CEO, C.A.