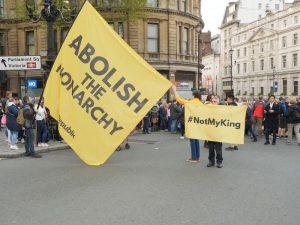 Are Cunts!
I'm not a monarchist.
Never have been.
I don't respect inherited privilege and wealth.
That said I could never align myself with such sniveling little drips as Republic.
Crying because they got arrested.
Soft twats were softly handled and still fuckin whining.
They say that the Met were rough in their handling.
Bollocks.
No bruises, no split skulls, no broken bones.
Just arrested.
I never join anything because I think the majority of people are wankers,
But Republic make me want a monarchy just to spite them.
Long live the king!
Nominated by Miserable Northern Cunt.