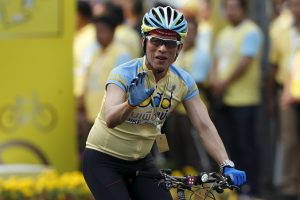 Thailand's King Vajiralongkorn – his name means "adorned with jewels or thunderbolts" – is a cunt of galactic proportions and a truly frightening person. He even puts Caligula to shame.
From a young age there were rumours of gambling, womanising, and associating with illegal businesses which plagued the then prince's reputation. A few years ago he was photographed in a bizarre crop top displaying tattoos in Germany. When a photo of the king was posted on Facebook he threatened to sue the company, saying the images were insulting. Since then the King has largely ruled Thailand from a luxury resort in Germany where he has a harem of 20 mistresses.
The king himself had five children with a now-dismissed mistress while he was still married to his second wife (that mistress and four of the five children have since been disowned and are now living in the United States). Many former wives end up persona non grata, fearing for their lives, with their families imprisoned.
The king is also a keen cyclist, the mating call of cunts world-wide. He recently shut the streets of Bangkok for a 24-mile (39km) cycling event where he could be seen riding in yellow spandex.
Vajiralongkorn also named his pet poodle Foo Foo an air chief marshal. Air Chief Marshall Foo Foo would accompany the king to formal events dressed in full miniature uniform. When Foo Foo died in 2016, he was given a four-day funeral with full Buddhist rites. The poodle first came to the attention of the general public when a video was released showing him eating cake from the hand of Vajiralongkorn's third wife while she cavorted in a G-string at the dog's lavish birthday party. At a 2009 gala dinner in honour of Vajiralongkorn, Air Chief Marshall Foo Foo was kitted out head to paw in black-tie dress and jumped onto tables to lapp from guests' water glasses.
The king's extravagance is no less remarkable than his private life. A monarchy that was impoverished in the postwar period has increased its wealth to between $40 billion and $60 billion.The King has taken control of the Crown Property Bureau, previously administered on behalf of the nation like the UK's, into his personal control. He has also taken two regiments of the Thai army into his personal control, giving him his own private army he can set up against Thailands notoriously coup-happy generals if he has to.
Even more ominously, death squads have targeted anti-monarchist refugees outside of the country. Three of them were abducted and killed in Laos, their bodies eventually floating to the surface of the Mekong River. They were not the first to meet this fate. A few years earlier, two members of the opposition also vanished. One has never been seen again; the other turned up dead.
Vajiralongkorn has several palaces in and around Bangkok. One of these palaces was where he spent time with his third wife, a former nightclub hostess who he secretly married in 2001.The palace is now mainly used as a prison and military punishment camp – a place where Vajiralongkorn can incarcerate and punish anyone who displeases him with impunity and without any oversight at all. It also boasts a crematorium. The place is described by some of those who have been imprisoned there as "hell on earth". Instructors at the prison film the daily punishments of the inmates. The footage is routinely sent to Vajiralongkorn, who apparently enjoys watching video of soldiers being beaten and abused.
Vajiralongkorn is an insecure bully, but now he is king of Thailand, with the power to torment others with impunity. Thailand is a nation living in fear.
So for you republicans moaning about King Charles, count yourselves lucky. If you criticise the king in Thailand you get 12 years in jail. Or worse.
Maha Vajiralongkorn is an evil cunt. He also looks like Frankenstein on a bad day.
God save the king – Charles III that is, not Vajiralongkorn.
Nominated by MMCM.