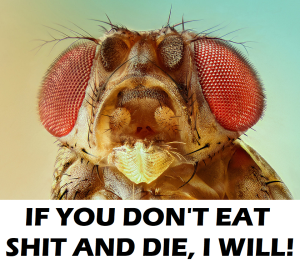 It's that time of year. The thermometer in dear old Blighty has finally moved off "second ice age" and we have got a balmy 15degC or so. What happens? The cunting blue-bottles are out in force.
Where the fuck do they come from – I know it's maggots, but where are the fuckers?
Are they fast asleep in my carpet, just waiting to emerge as fat, annoying bastards.
Either way, flies are cunts.
Nominated by : Lord Cuntingford
Assistance provided by : MMCM
A link on Calliphora Vomitoria to help this nom on its way –
https://www.buckinghamshirelandscapegardeners.com/news/how-to-get-rid-of-flies-from-your-garden
Ugly fuckers and a complete pest.