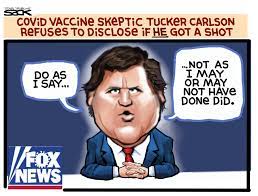 I love it when being a cunt comes back to bite you on the arse.
The prince of propaganda has been caught out for lying to his loyal slackjawed viewers, a crime that would turn normal people off, but he riffs his drivel to the MAGA mongs, and they have such a tenuous relationship with facts that even though he is guilty by his own hand, they will still blame the deep state, Soros, or whoever Trump tells them.
During the Defamation trial brought about by Dominion software, the company that supplied the voting machines used in the last election, versus Fox News, texts and messages from presenters have been brought into the public eye.
On screen, Carlson slanders Trumps enemies with barely concealed glee, while giving the Mango Mussolini credence in his lies and bullshit, however, off screen Carlson says he hates the cunt, the only thing he can do is destroy stuff, he's a joke, etc etc.
This is a view shared by other Fox News presenters, who also parrot Trump conspiracy theories without question.
So, what does Carlson do? He's been gifted privileged access to the thousands of hours of CCTV footage from the January 6th insurrection by the odious speaker of the house, Kevin McArthur, no doubt one of the many paybacks owed for his farcical appointment. No other news organisation or regulatory body has access to said footage, so Carlson has free rein to edit it to his hearts content.
Which of course he does, releasing a compilation of snippets of people milling about, not rioting, or doing anything like insurrection. This he says is proof that it's a lie, and all those folks are innocent. A bit like showing Peter Sutcliffe driving around before he killed a prostitute, and saying 'he's not killing prostitutes there!'
He also mentioned the shooting of Ashli Babbit, saying obviously there's no CCTV of that incident, so who knows what happened there. There is however video of that incident, that had been seen around the world, but Tucker can't stop lying.
Oh, and that stupid face he pulls like someone has cut a fart under his nose? Cunt.
Nominated by Gutstick Japseye, the almost departed.