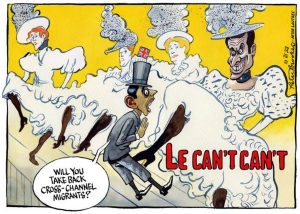 Monsewer Richy Tricky Sunak gets the old Frog Monkey
And now Richy Tricky Sunak has achieved a rapprochement with Macron over the UK immigrant crisis. Entente Cordiale rebooted? Brave New World? Mes non mes amis. Usual UK capitulation coupled with extortionate payments to buy friendship. Madame La Belle France is always a high rent mistress. You need to grow a pair Richy Tricky and practice the Gallic Shrug:
Nominated by Sir Limply Stoke, seconded by Geordie Twatt.
I'd like to second Sir Limply's nomination.
I write this on the day that the snail munchers have just stuffed England 57-10 at Twickers. Appropriate really, as France's Rothschild banker has just stuffed our weedy Goldman Sachs banker by much the same scoreline. Half a fucking billion to not stop the daily Channel invasion? Are they sérieux?
Not so much the Gallic shrug as the Gallic middle finger.
Macron must be laughing his Coq off.