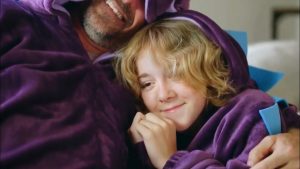 Oh it's bad, it's bad.
A feminine looking boy comes home from school. He has long blond hair. He wants to get on the settee after school. But he hasn't got his favourite 'Dinosaur' onesie washed.
Both parents realise but it is 'Dad' that jumps to it. Throws the garment in the drum with the 'Bold' capsule.
While this is going on we are treated to the words of the Spandau Ballet song 'Gold" made to sing of the virtues of 'Bold'.
Anyway Dad gets it to his son asap. And the son puts it on and it feels so nice and snuggly.
But wait! Dad has got one too! (His must have been already washed). And it's the same version as his son's.! Only a bigger one. But yes the same colour, the same Dinosaur motif.
And they get on the settee both in their onesies and snuggle up together!
Now Cunters isnt that a beautful way for a father and son to bond?
Nominated by Miles Plastic.