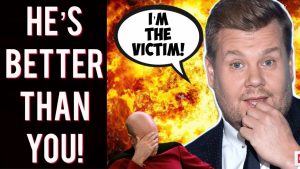 James Corden is a crybaby cunt.
Heard about leftie baldie cunt Patrick Stewart ripping the piss out of celebrity fake cunt and piece of work lard bucket James Corden?
The woke cunts and social media pricks are all up in arms because the obnoxious lardarse has been 'fat shamed' by a seemingly pissed Stewart. I personally think that it's fucking hilarious.
That fat obnoxious cunt talks to people like absolute crap and he's as fake as Bruce Jenner's twat. Yet, when the fat fuck is on the receiving end, the lardy shit starts blubbing. Boo fucking hoo.
There aren't many things that are more pleasurable than watching that fat horrible cunt get some overdue payback. And the lardarse only 'apologised' to those restaurant staff because he was caught doing it. God knows how many times he's done it in other places to other people, the fat cunt.
And as much as I dislike him, I have to say well done, Patrick. Cunt though he is.
Nominated by Norman.