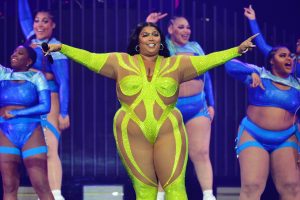 No, I've no idea who this elephant is either, but by the looks of the report it must be a popular recording artist or something. It may be a good, bad or indifferent singer, I don't know and don't want to know.
My point being, who the fuck could watch this mountain of adipose tissue slithering around on stage without wanting to vomit?
The Daily Torygraph carries a report on the same gig today with the headline 'Why isn't this out-and-out superstar headlining Glastonbury?' I'll tell you why not – because it wouldn't be possible to construct a stage strong enough to support her and the fat slags behind her. What a disgusting sight.
Nominated by Geordie Twatt.