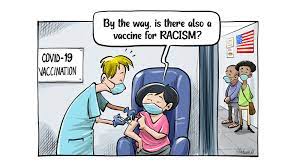 The BBC News Website informs us that a coalition of 27 organisations (the usual suspects) are demanding that the Covid inquiry puts 'race at its core'. The article is enriched by the usual sob stories of ethnics who lost loved ones. My favourite is a chap whose 60 year old father 'did everything right' yet still died.
It would be nice to think that any findings are totally honest but we know that this is highly unlikely; cue the compo calls.
However , I think that these campaigners do have a point , race did play a part in Covid. The fucking Chinese have a lot of explaining to do. At the very least Covid must be given its proper name – Chinky Virus.
Nominated by Guzziguy,
Supporting link provided by Liberal Liquidator