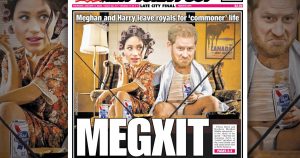 "Good afternoon.
This is IsAC's social affairs, health and royal correspondent Ron Knee speaking. Today I'm joined by a very special guest, none other than the privacy-seeking Harry, Dork of Nutfux, who has deigned to inform us on mental health issues by speaking about his own traumatic experiences".
"Nice to see ya Ron dude! Hey, take a toke on this man, it's some real good shit. Chillax bro. Er say, how much is this gig paying?".
"We'll talk about that later. So you believe that by baring your soul about your mental health, you can be of service to the world? Please elaborate".
"Well Ron baby, I had it bad growing up. Real bad. *inhales smoke deeply* I came from a broken home. Daddy wouldn't buy me a bow-wow. He never hugged me, or let me cuddle his teddy bear. Mummy deserted me. All I have left of her is her special cream, which I rub on my little blue todger at night to remind me of her".
"Dear me. So how did all this neglect actually affect your mental state?".
"Well I was a mess dude. Can you imagine what it's like for your own brother to get a bigger sausage than you? I took to bullying the hired help at my prep school, kicking my polo pony, shagging in a field behind a pub, killing ragheads in Affers, shit like that. In an effort to block it all out, I took to getting pissed in a big way. Then
I discovered coke and weed, and magic mushrooms. Man, those smokes really cleaned the windscreen of my mind. I can now see myself clearly for what I am; a victim".
"Indeed. And I assume that your selfless wife has also helped you on your journey of self-discovery".
"Oh man, that woman is remarkable; so concerned for others. She encouraged me to spread my wings, to flee the persecution of my family, and to isolate myself with her in California. She's helped me to explore my inner self. She's shown me all the things that are wrong with my head, how I've been abused and neglected by the world, and how by trashing my family, I can begin to heal".
"Yes, and no doubt it was the delightful Meghan who also showed you how you could monetise your pain".
"Well hey, a fella's gotta turn a buck to survive. I got a Hollywood lifestyle and a high-maintenance wife to maintain. Say, speaking of which…".
"Okay, here's a quid; fifty pence for a cuppa tea, and fifty pence for your trouble. Now fuck off, you self-absorbed, arrogant, grifting little shit".
"Jeez man, you really do need to chill out. Fuck, I'm outta here…".
Nominated by Ron Knee.