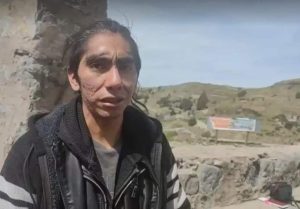 https://www.thesun.co.uk/news/21559578/mummy-girlfriend-delivery-cool-bag-sleeps-in-bedroom/
Peruvian Perv who just Luvs his Mummy
Julio Cesar Bermejo. This sad tosser has been caught in bed with an 800 year old Peruvian Mummy (wait while the LGTBQ+-mob come up with the appropriate pronoun).
"At home, she's in my room, she sleeps with me. I take care of her"
Julio is a rather confused lad and in need of pronoun assistance not least because the object of his/its affections is actually male. We do not speculate how Julio achieves satisfaction but it must involve a bucket load of KY Jelly. Taking a squint at the pervs boat race I get the distinct impression that he is well on the way to mummification himself. "There is no greater love than this" as the poet says. Keeps the object of his affections in a foil lined pizza delivery backpack so she can travel with. Touching but mistakes can be made.
"Ere wasiss you cunt. I ordered a Chicken Pharaoh fully loaded so where's me extra toppings innit?"
Never having had the horn for desiccated people (no not even Twiggy in my day) so granted I may be missing out on something but Cleopatra? Nah. Tutankhamun?. Nah. Queen Hatshepsut? Nah. Not a twitch of me haemorrhoids. Possible explanation for archaeologists obsessively digging the desert sands though. Crawling up dank narrow tunnels inside Pyramids? Very Phallic Pharaoh.
Nominated by Sir Limply Stoke.