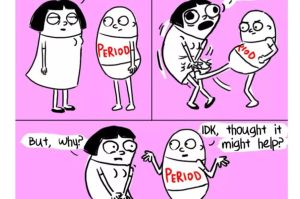 I really feel sorry for persons who experience period pain once a month. I mean, what a fucking pain. Period.
The wife points out that period pain can be a bad experience for a person with a uterus, but it can be utterly excruciating for persons without one, as this young lady found out to her discomfort;
He'll be wanting one of those vagina thingies next. Sorry; SHE'LL be wanting one of those vagina thingies next.
I can only repeat the words of a confused Ray Davies; 'girls will be boys and boys will be girls, it's a mixed up, muddled up, shook up world…'. Damn right it is. It most certainly is.
Nominated by Ron Knee. And another helping about the "reds playing at home" from Fuglyucker.
As its wimminz day I would like to nominate a cunting, it those fucking horrific ads about the monthly shark week.
The above link nearly made me bring up my dinner, then there is the other ad, with the red splashes on knickers and the gild at the end wringing herself out like a fuck chamois leather.
Honestly I sympathise with wimminz, but I would rather not have to see or hear about this crap, there really are some things men don't need to know.