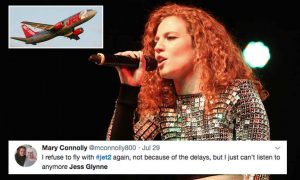 Jess Glynne is a cunt.
Radio stations seem to love this whaling bint. They torture people with that 'I'll Be There' song. When will these cunts realise that ludicrous badly done cadenzas and stupid noises is not singing? She is absolutely horrible.
With ridiculous yodeling, she sounds like a female Jimmy Savile. And that 'I'll be there for you-hoo-hoo-ooh' bit makes glass crack and animals run for cover. Seriously, I defy anyone to listen to it without getting a headache or their piss boiling.
This tart is also responsible for that unintelligible screeching in those horrible Jet2 adverts.
Nominated by: Norrman