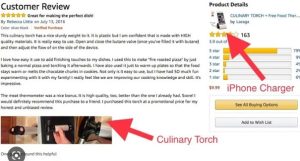 This is the practice of attaching a new product to old online reviews and hoping potential buyers don't read the actual reviews themselves but are more focused on the fact it has 4 or 5 star ratings.
Amazon is particular is prone to this phenomenon, but most other online retailers probably suffer the same problems with fake online reviews.
An example of Review Merging is where a supplier uploads a cheap but fairly decent product such as a pair of scissors. It is a genuinely good product and receives hundreds of genuine 4* or 5* reviews.
But then the supplier uploads a really meaty product such as a smart phone, or tablet or some other nice looking gadget but isn't a familiar brand name such as Apple or Samsung but more like Wiota or Sanjina.
Moreover the supplier doesn't upload this to Amazon as a separate item but they are able to merge it with their existing products (scissors in this example) and they're able to change the title, the description and photos they go with it. But more importantly is that the existing reviews and ratings (for the scissors) also get merged with the dodgy new gadget.
The gadget in question is cheap and nasty in reality, but by "piggy backing" off reviews from the supplier's existing reviews it will look to potential customers that the gadget is highly recommended.
It's only if a customer actually takes the time to read the reviews will they find that the review has absolutely nothing to do with the product (in this example the reviews will be about the scissors rather than the gadget)
In fairness Amazon do try to stamp down on this kind of thing, along with other forms of fake/bogus reviews. But when one considers its sells millions of products every day across the world, along with hundreds of thousands of products and reviews being uploaded on a daily basis, it is no surprise that quite a lot of bogus reviews still remain active and thus conning potential customers.
In summary therefore, don't just look at the ratings before you buy. Check the reviews themselves for consistency. Also make sure the reviews aren't bogus either (usually consisting of less than a sentence, or from reviewers with only a handful of reviews against their name)
The following link provides more details
Nominated by: Technocunt