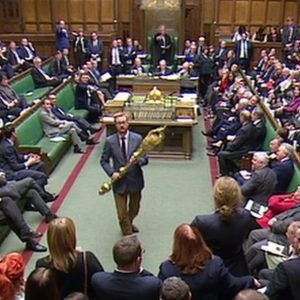 You don't want to roil Lloyd Russell Moyle.
At all costs avoid upsetting Lloyd.
Especially on sexual matters.
His piss starts to boil if you disagree with him. Lloyd is paranoid as if everyone's against him .
Like he should wear a hat made of tin foil. Lloyd Russell-Moyle.
He's wound tight as a coil ready to explode. Lloyd Russell-Moyle.
His face contorted like a gargoyle.
Lloyd Russell-Moyle.
He strains and…and you feel his underpants could soil when in full flight. Watching him is a really hard toil.
To the lbgtqia+ community he is extremely loyal. Lloyd Russell-Moyle.
—-
'creepy weird behaviour' in the Commons again. Remember the mace episode?
Well this time it is his hugely over the top response to a female Conservative MP's legitimate concerns about that Scottish bill to bring in self- identification.
Also he went and sat in the conservative benches afterwards according to the Express. ..really weird.
Quickly, I have watched him discussing other political topics and he comes across as reasonably human. But when it gets onto lgbtqia+ rights and such he really does turn into the–'Russell-Moyle Creature'.
Nominated by: Miles Plastic
And seconded by: Sick of it
A cunting for chief Cream Puff in the commons, Lloyd Russell-Moyle
In the debate about the Scots Nazis gender recognition reforms (rejected by the UK government) a female conservative MP. Miriam Cates, gave her 2 minutes worth.
In her speech she mentioned having a personal experience in a ladies room (bog) where she felt uncomfortable by a bloke in a dress staring at her (avoid the description trans woman, cos it's bollocks).
Russell-Moyle then went into one of his girlie fits screaming at her (see the clip in the link), he was quickly warned by the speaker but still went on, then bizarrely sat on the conservative side of the house seemingly in an attempt to intimidate Miriam Cates.
He will probably get away with this behaviour because he is a shirt lifter and like his mate Chris Bryant there appears to be greater tolerance for the 'gay' than a straight bloke.
I am sure if a straight blue bloke had done this the outrage would have been multiplied a hundred times.