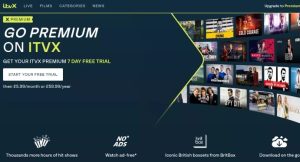 And for my next CUNTING, I give you ITV.com
Their so-called ITVX will not work on my pristine and excellent 6yr old Panasonic TV or PVR.
Having spoken to Panasonic, (a real human) ITV own the app, whose "improved update" has just frozen tens of thousands of us pleb cunts out of using their catch-up service.
Several brands are badly affected, inclusing mega-brands such as Panasonic, Hitachi, HiSense.
So I thought I'd give ITV a call via their Google listed number…. 03448814150 – to be met by the message that ITV no longer operate a switchboard for us pleb cunts and that everything must go through their webshite. So I did. Fucking useless and designed to keep the ITV corporate cunts as far removed from us pleb cunts as possible, just like every fucking cunt council, agency etc.
Found the correct contact, although most give up and fuck off into the void, not wanting to be arsed being messed around with. And they wonder why we despise them, worse, when we get annoyed, are accused of "bullying". Corporate cunts to the core.
Here is the text of the email I posted on their webshite, I doubt if they'll respond.
"In your infinite wisdom you decided to nix both my Panasonic TV and PVR so that we can no longer access the hub or "X" or whatever you wish to call it.

This has affected thousands of us who will NOT be replacing perfectly functional equipment, nor watching via a phone/tablet/Computer, as that's the reason we have a TELEVISION.

I can tell you that Panasonic, HiSense and others are mightily hacked off, but as I see it the only loser is ITV as we use other apps, BBC iPlayer, All4 and channel five to name just three that still work perfectly on a 2016 TV.

Alternatively, send me a voucher for £799 for an up to date unit.

While on the subject of ITVX, who came up with your absolutely appalling, insulting, childish, mindless pile of equine excrement posing as an advert for your service, bombarding us mercilessly and that has me reaching immediately for the MUTE button (God bless the inventor of the remote control) so irritating that it puts me OFF of ITV, and I'm not alone.

I'm not surprised you no longer operate a switchboard, preferring as so many do, to keep us knuckle-dragging proles at arms length, treated like dirt.

Sorry guys, but you have shot yourselves in the foot. No more ITV catch-up, we'll record stuff if we can be bothered, OR as is now happening, switch channels for alternatives, or, read a book, listen to a CD and leave the TV OFF.

WELL DONE for weaning us off of the TV and saving us the agony of so many of the truly ghastly "woke" adverts" now bombarding us."
What a bunch of Corporate Cunts, they can now go fuck themselves with a dried barrel cactus.
Nominated by: Sheikh Anvakh
( More info here – Day Admin     Cordbusters Link  )