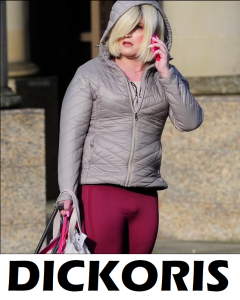 The clued-in membership of IsAC will be aware of the furore north of the border following the SNP's recent rail-roading of the Gender Recognition Reform Bill through Holyrood. Now here's a cautionary little tale for Nicola von Rottweiler to chew on in the wake of that.
Allow to introduce the captivating Isla Bryson from Clydebank, who's been convicted of carrying out two serious sex assaults against women while still 'living' as tatood slaphead Adam Graham.
S/he/it (okay, let's just make the pronoun 'shit' for short) first appeared before the beak as Graham, but by the start of the recent six-day trial at Glasgow's High Court, 'Adam' had become 'Isla'. Shit is now being held on remand at an all-female institution pending sentencing. I don't think any decision has yet been reached as to where shit will actually serve an almost certain custodial sentence.
So at this moment, what exactly is the actual 'gender status' of this charmer? Fucked if I know, so I can only go by the evidence of my own mince pies, and I refer cunters to the picture first left in the link;
Now all I can say is, if that's not a dick poking through those lurid red pants, it must be the world's largest clitoris.
So then Wee Jimmy. Just where will this creep be banged up? Men's clink, or women's clink? What was that? Oh, it's not your job to interfere in the judicial process… Right.
Nominated by : Ron Knee
And then there's this from Captain Magnanimous
Isla Bryson is a cunt, isn't he. (It's certainly not a looker! Admin)
This is a nomination for the Scottish gender bill, Sturgeon, and the bewigged rapist who raped two women then suddenly decided to 'transition'.
I might rob a bank tomorrow. If I'm caught, I'm going to identify as a courgette so they can't convict me. "Courgette didn't rob no prison", I'll say. Lock up Cap'n Maggie", I'll suggest.
Hopefully, this'll be the end of Sturgeon and her miserable career.