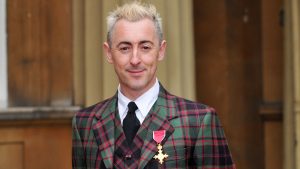 'Good afternoon. This is IsAC's cultural affairs correspondent Ron Knee reporting. Today I'm privileged to be joined by world-renowned thespian, gay rights activist, SNP fantasist and all-round luvvy Sir Alan Cummings'.
'*harrumph* Ah'm not a knight, and there's no 's'. Ah'm just Cumming'.
'Mmmm… I'm sure there's a lowbrow joke in there that our members would enjoy, but let's not go there. So tell us, Just Al, what's the deal with your OBE?'.
'Well luv, ah've sent it back. Mah eyes have been opened, especially aboot how the Empire profited at the expense o' indiginous peoples aroond the world. My delicate sensibilities are offended that Britain forced such horrors as the rule of law, roads, sanitation, trains and other such decadent western trappings upon others. Ah'm sure that your members will support me in mah protest'.
'Actually Just Al, I doubt it. I suspect that for all they care, you can stick your gong up your arse. No, what will annoy our members is the fact that you couldn't just quietly hand the thing back and be done with it. Instead, you're all over the media acting prissy about it, in what they'll see as an act of self-glorifying virtue signalling'.
'Well, dear, *huff* ah'm sure that it's not mah fault what a bunch o' gammons think'.
'Nice. But let me put this to you. You took US citizenship some time ago. What are your views on the imperialistic actions of your adopted land over the years?'.
'*shuffles awkwardly* what *cough* do you mean?'.
'Oh you know. Purchases of Russian and French colonies in the 19th century. Huge land grabs from Mexico, annexation of Hawaii, stuff like that. Appalling treatment of Native Americans as the US drove to fulfil its "Manifest Destiny". Fighting wars and staging coups everywhere from Cuba to Vietnam via Chile in naked pursuit of economic and political dominance. Stuff like that. I'm sure that your average American is dying to hear your views on these matters'.
'*shuffle cough* erm, yes well… er…oh goodness me, is that the time? Ah've got a spot o' lunch booked at "Le Bernardin" with Dame Judi and Sir Patrick, the dear, dear boy. Must fly… bye-ee!'.
'Thank for sharing your valuable time with us Just Al. This is Ron Knee, for IsAC, returning you to the studio'.
Nominated by: Ron Knee
And here's one from Freddie the Frog
Alan C*mming OBE …..Bottler, Coward and Pathetic Excuse for a Man
Personally I've never heard of this wanker…..if he walked past me in the street I wouldn't know who he was. But, apparently, in 2009 he was happy to accept an OBE for services to the dramatic arts or some such bollocks.
Now, FOURTEEN YEARS LATER he has decided to send it back because of "the toxicity of empire". Oh just fuck off cunt.
Could this be an ageing white man who is shitting himself that, in the wokie media world there won't be any work for him? Apparently he's a fucking poof but even that isn't enough in the mental world of the wokies. A desperate pathetic little cunt.
Fuck off with your pathetic virtue signalling gesture you fucking cocksucker.
(I wonder when race-baiters such as Lenny Henry and Marcus Rashford will do the same thing? – Day Admin)