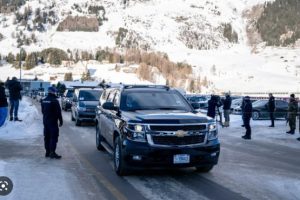 According to the article below (and others corroborating the story) over 1000 private jets, various motorcades involving mostly ICE cars, 2500+ delegates and hundreds of support staff, all cascading on this year's annual conference in Davos, Switzerland this month.
There was massive criticism in the media and especially the eco-lobby this time last year for the same Davos meeting when it was alleged over 500 private jets (that's over 1000 flights in and out of Switzerland) were used, along with thousands of cars etc.
WEF spokespeople at the time were stung by the hypocrisy and promised to reduce the massive carbon footprint for the 2023 forum, But clearly, and if these articles are to be believed, their promise was just another load of old bollocks.
And don't forget, these are the globalist puppet-masters telling national governments how to run/ruin their countries, especially with regards climate change, net zero and Build Back Better.
These elitist cunts remind me of a similar globalist jamboree – COP26. Again we had thousands of VIPs and assorted hangers-on flying in from around the world, leaving massive carbon footprints, while telling the plebs what we can and can't do for the next 50 years!
Proof-positive we're been taken for complete fools by the elite and yet the MSM just haven't quite realised it yet.
Nominated by: Technocunt
And supported by: General Cuntster
I would like to second this excellent nomination and point out that the hypocrisy is even worse than we know.
A company called Luna Jets is advertising its "highly discreet…on demand…empty leg network flights to the WEF meetings in Davos."
You can even pick your own airport!
For more information on what they offer…and what an empty leg network is…go here:
A convenient and discreet way to pollute the planet at a discounted price!
Further support comes from Sheikh Anvakh
I'd like to add to this superb nomination to this pinnacle of hypocrisy and elite cuntritude.
The sheer effrontery of the Davis Fourth Reich and wannabe World Führer Klaus Schwab and his coterie of sociopathic arsehole crawlers knows no bounds.
Using the Great COVID Con as a covert pretext for Schwab's "great reset", these cunts care not a fig for us plebs.
The non-existent "climate emergency" is being used to starve us, impoverish us and put us back into totally surveilled little electronic villages where we won't even have control of our own money.
Naturally these shite-hounds will tell us how it's "for the chiiiiiiiillllldten, to play on our emotions, when anyone with half a brain knows that by destroying OUR rights, it destroys theirs too.
Then there's the appalling "Build BACK Better" shit being parroted by our fuckwit politicians. Build BACK Better implies an awful lot of destruction as opposed to simply "build better"..
Every measure is designed to disempower us and remove our property rights, to "own nothing and be happy" when the the reality THEYLL own EVERYTHING and be happy, whole we become the life-on-subscription digital slaves, non-persons at the press of a key.
CUNTS, the lot of them.
Hopefully someone will wake up and declare the WEF Fourth Reich as the terrorist organization it is, as opposed to allowing Führer Cunt Schwab to dictate to our supposedly democratically elected governments. As I said, CUNTS, the lot of them. I hope they die slowly, painfully and alone
And even more support, this time from Komodo
At risk of extending this excellent nom still further, here's the UK contingent:
1. Noted environmentalist Zac Goldsmith
2. Nicholas Lyons – who he? Mayor of London and City cunt.
3. Rachel Reeves. Labour Shadow Chancellor
4. Richard Moore. Head of SIS and general-issue spook
AND….(drum roll, fireworks, parade of catwalk models)…
5. the unsinkable turd TONY BLAIR.
Who has for no very valid reason attended every WEF in living memory. The cunt.
Found here, along with numerous other greenwashing fat cats – a decidedly off-message site which may not be up for much longer, so hurry.
And a very late entry from Ron Knee
Morning Admin.
I thought that this could make an interesting additional link to the recent Davos nom!
Regards
Ron