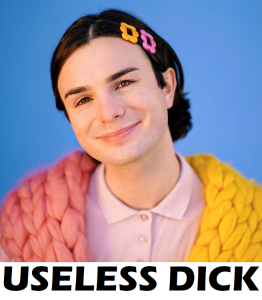 HE has been keeping a record you see. A tik-tok diary. 'Days of Girlhood'.
This was on Day 1 – https://m.youtube.com/shorts/FttyV9IEzlc
What does HE say? ' I've cried three times…"I've sent off for dresses I cannot afford…'
See it's PRETENDING to be a girl. In fact it's Sexist in the sense it portraying girls or women as superficial airheads.
Pretending HE is. And HE'S good at it. Because that's what HE is– an ACTOR.
I mean before the lockdown HE had a relatively good career as an actor. HE was in 'The Book of Mormon' on Broadway.
Yes then the Lockdown restrictions hit. So nothing to do. Bored.
But HE had to keep HIS name in the public arena somehow for HIS career.
Like all actors have to do.
I know I will jump on the 'Trans' bandwagon. And become a girl.
Note HE keep saying HE'S becoming a girl. Not a woman. So HE can use HIS acting skills to 'play' a 'playful' girl.
Here HE is again on Day 66 frolicking in woods–
"Day 66 of "Girlhood" – https://m.youtube.com/shorts/8Cl9c1EHQmk
See once again it is just pretending, jokey, ridiculing femaleness really.
What is this leading up to? A meeting with Joseph Robinette Biden, the President of the United States, the most powerful man in the world, the leader of the free world.
HE tells Joe that this is his 221st day of 'transitioning'. 'God love ya' says Joe.
Finish up. I suppose 'Dylan' can be both a girl's name and a boy's. Anyway I have noticed HE hasn't changed HIS name to a markedly more female one since HE started to 'transition'. Because that's what HE wanted all the time. Just to keep HIS name In the public arena for HIS acting career.
And HE got to meet and talk seriously with Joe Biden, the President of the United States, the most powerful…etc
You couldn't make it up.
Scorsese on the lines of the 'King of Comedy' would make a good film of it.
https://m.youtube.com/watch?v=B9258AnO_Bk
Nominated by : Miles Plastic