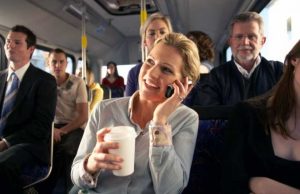 Am I alone in finding this absolutely infuriating?
It sits side by side with the cunt who's playing drill, even though he's wearing earphones, it's still leaking out. I'd complain, but the twats probably halfway to stone deaf, and I don't know sign language.
Anyway, back to mobiles, do people think, that once they've pressed the make/accept call button, a fucking soundproof shield encloses them?
Twats, twats and total twats!
BTW, the links nought to do with my rant, it's more about mobile phone etiquette,
And not farting when ladies are present.
Nominated by: Jizzum Priest
(NOTE. There's a slight change in the scheduling for today only – 7am, 10am, 1pm and 4pm. Back to normal 1st Feb, Thanks – Day Admin)