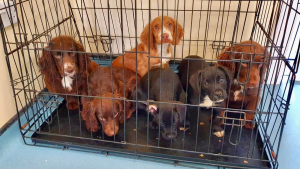 Ok, not all of them. But there's a high proportion of cunts in this category. When the lockdown got going, people bought dogs en masse, either as company or as a reason to exercise outdoors. I estimate that during the years 2020 to 2022 the population of dogs trebled or quadrupled in my small – mostly-commuter – town.
By far the majority of the newcomers were silly little breeds chosen for their cuteness rather than any other desirable canine trait. Little furballs with big eyes, a plague of springer spaniels (possibly the stupidest canine on the planet), bizarre monstrosities with bat ears and breathing difficulties. And a miniature schnauzer, which yaps continuously – I do mean continuously – loudly and penetratingly, at C above top C for the duration of its daily walk round the houses. Schnauzers do this, apparently. Grin and bear it, neighbours.
Ok, whatever turns you on. Dodgy Irish breeders of cockadoodles (is this right?), fill your boots. Likewise the purveyors of shitebags, harnesses, extending leads, toys, food, insurance and extortionate veterinary services. They may not have been factored into the initial decision to buy the dog. But they mount up. With the result that a dog may not be just for Christmas, but it sure as hell can be just for Covid:
Cunts, ladies, gentlemen and persons of indeterminate gender or none. Just cunts.
Nominated by: Komodo