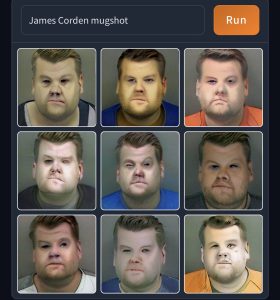 Recently, we have seen this repulsive slab of lard as the cunt he really is (by being a total cunt to restaurant staff).
But now this vast sack of shit has proved his cunt credentials again. This time by nicking jokes off comedians like Ricky Gervais and Noel Fielding and passing them off as his own work.
Some knobheads might say 'But… But,,, Isn't all comedy like that?' No, it isn't You didn't see Monty Python do 'Kitten Kong' or The Goodies do 'Spanish Inquisition'. They did their own stuff and that was it. Corden is just a lazy thieving fat cunt, and even his dreadful Car Pool Karaoke was pinched off someone else.
People are seeing through this cunt more and more. And I hope this is the beginning of the end and the end of the pier for the fat shit.
Nominated by: Norman