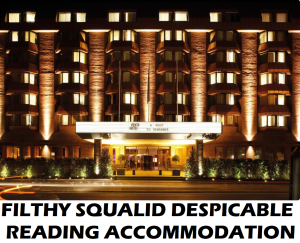 I know we are often light hearted on here but the following harrowing tale puts things in perspective. (Go on, we're listening – NA)
'Staying here is intolerable': the truth about asylum seeker hotels"
This concerns the dreadful treatment of Ali, who has fled religious persecution (??) in Iran, desperately crossed 8 or 9 countries to reach our shores.
He is banged up in a Berkshire hotel where:-
"The food is repetitive, his fellow guests never leave, the streets of Reading rarely change. "There is nothing to do. Nothing happens"
Yes, the racist bastards of Reading never change the streets for him.
He has been banged up here for 489 days with only complete freedom, food and a money allowance to cling to.
We should be ashamed of ourselves and can thank the Guardian for bringing this to our attention. If you open the attached make sure you have hankies at the ready.
Another MSN Link. (Additional link provided by Jeezum Priest)
Nominated by: Cuntstable Cuntbubble