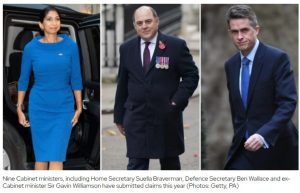 A well deserved cunting for the greedy grasping, expenses swindling bastards, who like to be known as "honourable ladies and gentlemen", who have now been given permission to host Xmas parties ON EXPENSES!. As if the bastards don't steal enough already:
This is on top of some of the bastards, like Rachel Reeves, Jess Phillips and – of course – Liam Byrne – claiming their gas and electricity bills on "expenses" as well, and of course Byrne famous for his fucking "Sorry there is no money left" note in 2010, made sure he really pushed the boat out by claiming more than £1000:
In fairness, it has to be said that this greed has spread to Sunak's Blairite party but Byrne, the great greasy heap of steaming shit, as ever claims more than anyone else. He has been a Birmingham MP for 18 years. The people of Birmingham are equal cunts for electing this bald bastard so often knowing his greed.
Dame Kweer, if he really is a man of great "integrity" needs t do something about his lickspittles.
It should be said that alcohol will not be able to be paid for with our largesse, but how fucking barmy do they think we are if we believe they won't find their way around that proscription.
You would find more honest ponces in Parisian pissoirs than you do in parliament.
Sly News Link. (Latest developments – NA)
Nominated by: W.C. Boggs