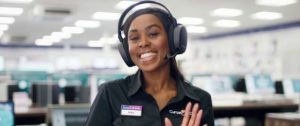 Currys (and other retailers/corporates) obsession with the B in BAME.
Growing up I didn't have a racist bone in my body. I have worked with many folk of all creeds and colour with no problem or ill effect, and still technically don't.
What is gripping my shit along with many other cunters and other people of all races I know is the relentless onslaught of blik or mixed race bliks shoehorned into almost every corporate image and almost every advert going. Never a Chinese or other under representated non-chippy or stabby type, just bliks.
Its been bad enough for the last couple of years that Barclays only seem to offer products to bliks in its banking app and that the BBC have an extensive library of images to portray blik victimhood or cost of living payments, but today when wanting to contact Currys about an item my piss boiled over.
Their contact page literally only shows blik staff working there. Now this should not rile or wind me up, but it does purely because it is no longer overkill with the pandering to this demographic, but as with the illegal migrants being allowed to stay we have been conquered by a minority purely due to skin colour and no other reason of merit. No offence is intended against any person regardless of ethnicity in this nom, it is aimed at the architects of this cuntitude. You would not accept a pint of black stout with 90% white froth, it isn't a true depiction of the product and is not acceptable, so why are we subjected to the reverse in regard to skin tone? It has now infested everything you see and everywhere you go, even in areas where there are literally none in the general population, like round here. Ffs bring back some balance.
Link below:
Nominated by: The Eternally Grumpy Cunt