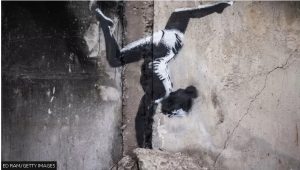 Is there any lengths this annoying graffiti stencilling Cunt won't go to tell the world what a right on up to the minute self serving shithead arsehole he is ?
Boy I can imagine just how grateful the Ukrainian people are for his latest efforts.
Banksy get this you are not an artist, you are a fucking vandal and want locking up for your eyesore stencils, almost as bad are the cunts that fawn over his fucking vandalism as if he were some sort of artist deity.
He's not he's a Cunt.
Nominated by: Everyonesacunt