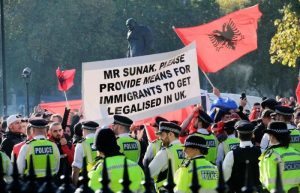 Albanian protestors in London today 12th November, demanding that we respect their human rights and relax the laws to allow in thousands of their brethren (could they be relaxed any further?).
Many of them were draped in the Albanian flag, but not the flag of the country where they now reside and demand everything under the sun. Well fuck off back there then, your country needs you.
Nominated by: mystic maven
Supporting links provided by: Komodo
Pissboiling link here:
P.S Given Albania's WW2 record, neither desecrating Churchill's memory nor complaining about being called "invaders" would seem appropriate…
https://ww2db.com/country/Albania
---
And on the same subject there's this from Fuglyucker
Albanians are cunts, this country is flooded with foreigners who come purely to leech off the system that us muggs pay for, to the point now the the system is completely fucked, and we can't use it,.
The worst of these fuckers is by far the Albanians, thanks to these Europikies we have sex trafficking rings, drug dealing rings, beggars,pick pockets, ugly slaggs knicking old mens Rolexes thievery, violence, con gangs, lying cheating, fucking hell you can't even try and sell a car now without Albanians turning up squirting oil in the header tank and exhaust and telling you your engines fucked, so they can get the car cheap, laterally any con these days has something to do with these greasy pieces of shit.
But get this, these fuckers are protesting about rememberence day and how dissatisfied these are about being here and how badly Albania has been treated by the UK.
I have the answer, take your hourds of dishonest crooks and fuck off home you cunts and raise hell at home, fuck off with my blessing…
---
And Uttercunt isn't happy with the Albanians either
Albanians..
..again.
This is a brief one but set my piss on steam mode.
Albanians draping their rag over Churchill's statue and making demands.
So the verminous rubbish that is Albanians decided to drape their rag of a flag around Churchill's statue on remembrance Sunday and demand the home secretary is removed for wanting to deport these illegal scumbags.
They claim they are fleeing persecution but are flying said countries flag. That's like leaving an alleged abusive relationship and showing off a picture of the person accused and declaring love for them.
They have zero right to be here and all need to be removed fast. Don't delay beaverbutt , or whatever your name is, get the pukes out. And make sure the Albanian crooked government pays their flights.