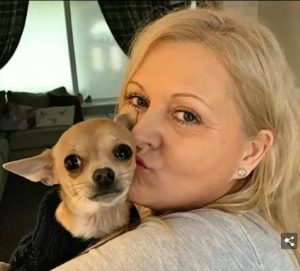 What a fucking rancid old Bag….serves her right that her "fur-baby" showed his true opinion of her and crapped in her gaping maw…calling ambulances and a 3 day stay in hospital indeed….I bet she wouldn't have been so keen if she had to pick up the bill.
What really gets me is the bit where she says she ran to the bathroom to wash the shit out but her son was having a shower so she had time to take a fucking selfie!!..
Dear God, I'm not squeamish but if I had a mouthful of watery shite,I  don't think that updating my Facebook status would really be my first thought when I couldn't get in the bathroom.
I'm glad the horrible ratty little dog crapped on her….I'd happily join it for a repeat performance.
Nominated by: Foxchaser-Fiddler